Where is Wonderful Web Women?
Hey if you clicked on a link expecting to arrive at Cool Cats Video Marketing Academy or Wonderful Web Women (or anything that starts with Wonderful Web for that matter) and you landed up here, you are in the right place!
After 10 wonderful years Wonderful Web Women has closed and the website you are on now is the next stage in the evolution of this powerful tribe online.
Read on to find out The Wonderful Web Women story and watch or listen to the behind-the-scenes podcast to learn how the Wonderful Web Women brand built so quickly, why it won so many awards, and why on earth I chose to close my award winning website and launch the Romance Your Tribe brand.
Looking for episodes of the top ranking video podcast Wonderful Web TV?
You can find 4 years of short and sweet Marketing, Motivation and Mindset videos over here on Youtube.
Wonderful Web Women. The Evolution of a Revolution
It seems like hype to call Wonderful Web Women a revolution. After all, at the time of writing in 2019 there are many powerful business women online creating a true impact. They are leading their online tribes and visible as leaders alongside visibly successful men online.
There are also many wonderful online communities of women supporting each other to create success in a way that builds on the strengths of women and defines success in a way that is meaningful for women who often have many hats to wear and roles to fill.
Yet, over 10 years ago the online space was very different.
It's hard to believe that women were hungry to find visible female role models creating success online. There were also far fewer online communities for women to find like-minded women creating successful business online.
Yet the reality is, 10 years ago online business was dominated by men (far, far more than the still male dominated industry in 2019) and women wanted change.
Wonderful Web Women became an early leader in that space.
Read on to find out more.
The Revolution Started in The Women's Toilets
Yep.
If you've ever been to a conference and tried to go to the Ladies toilets in the lunch break, you'll know what it's like. A long line of women with full bladders spilling out of the doors and into the hallway!
All talking!
It was at one of these conferences on Internet Marketing I started to notice a popular and passionate topic of conversation. The questions asked up and down the line of waiting women was:
"Why are there only men on stage?".
"I can't relate to all the testosterone"
"Where are the chicks?".
An idea was born.
What if I could find successful women online and interview them about how they have created success. Would people want to listen? Can I make money from this idea?
I'd been burnt in the past by not researching a business idea thoroughly enough before investing years and all my savings and credit on growing the business. I was wiser by then.
So I spent months, attending Internet Marketing Conferences, and believe it or not, conducted my market research in the women's toilets using an MP3 recorder!
I knew without a doubt there was a huge demand and there was the potential to make this work.
I just had to find all these successful women, work out a way to interview them, build a mailing list, create a new website and work out a model to make business.
So I did the obvious thing: I set a launch date, announced it to everyone I knew then went flat out trying to work out how to do it!
Lessons:
Look and listen. Business ideas are everywhere.

Do your market research

You don't have to research in the ladies toilets. Facebook exists now!
The Project That Launched Fast
I'll cut out describing the months of lack of sleep (my kids were still young and in primary school then), the stress, the self-doubt, the scrambling to find things to sell on eBay to pay for website software (wordpress wasn't mainstream then for membership sites), the incredible support from my husband and the way I grilled everyone I met, on techy stuff, marketing stuff and business models. The money I spent on digital programs on "how to Interview" and "How to make money online".
A few months later this is what happened:
I launched an 8 week live telesummit featuring wonderfully successful women online

All the women promoted my summit to their subscribers for me

I bought hand-painted silk scarves, designed for each women, as gifts of gratitude (yep, I even commissioned them to match their eye colouring and hair!)

In 8 weeks I built an email list of thousands, from a start of zero

I replaced my last 12 months of income in 8 weeks with a combination of commissions from programs my guests sold on my interviews and a last minute $47 / month membership that offered recordings and transcripts of the interviews (yep that means the first members joined an empty membership area)

I won an award for Best Membership Site

People I didn't know contacted me to ask if they could pay me thousands of dollars for me to coach them (I had no idea what coaching was but I said yes!)
Lessons
You've got to hussle when you're starting out so set a goal and get moving

Affiliate commissions are awesome

The telesummit model is a great way to build a business and gain rapid credibility

Be really nice to your husband 🙂
The Project That Turned into an international Business
The launch of Wonderful Web Women was a success by anyone's standards. Now the challenge was to turn it into a sustainable business. Again, I set some big goals and did some pretty gutsy moves, which I'll tell you about. Doing the scary thing paid off and the business momentum developed a life of it's own. Fuelled by "The Revolution" and the power of building a tribe around your business. Something that I have since specialised in helping my clients also achieve (hint: this website is called Romance Your Tribe!)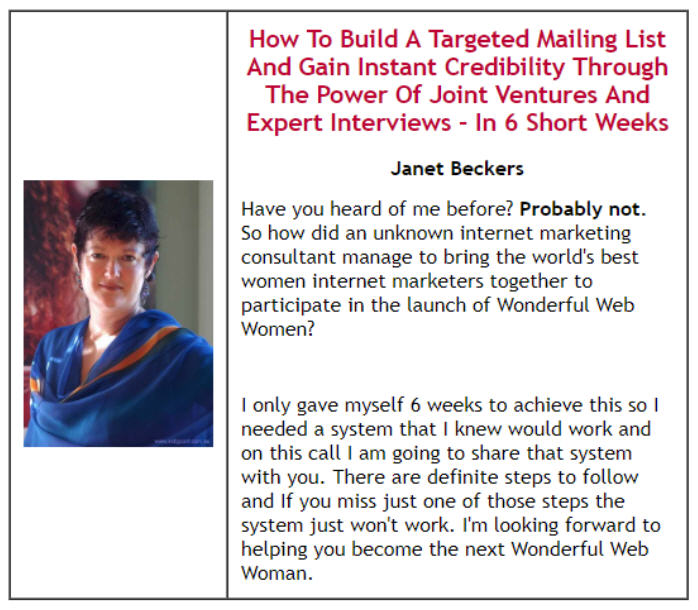 I mentioned before that I launched with an 8 week telesummit. The problem is, the 8th speaker was stuffing around on the dates (well her assistant was) and I was going live without a confirmed last speaker. So I did something a bit crazy.
I scheduled MYSELF as the final speaker and the topic? "How to build a targeted mailing list and gain instant credibility through the power of joint ventures and expert interviews- in 6 short weeks".
Good grief! I had a list of zero and literally spent my last cent in my business account the day I wrote that. It was the day before I did my first interview!
No pressure.
This is what happened:
When I presented (I got a customer to interview me) I had actually achieved exactly what I said I would (phew).

Every other speaker had sold a program at the end of their interview so I decided I should too

I sold my first program for about $500, before it even existed, on the topic of….you guessed it…."How to build a list of thousands and turn your passions into profit in 8 weeks".

The guest experts were so grateful to have a platform available focusing on women in business online, they recommended their peers be my guests. I had a waiting list!

I did a live interview every week for 2 years and then one every 2 weeks for another 2
Lessons
Back yourself and embrace the feeling of "Scarecited"

Position yourself as an equal with experts by including yourself as a guest expert in your own line-up

Test a new product by pre-selling. If it sells, then create the program live with your first members
Business success is about building and nurturing an engaged tribe and that starts with first of all identifying a tribe without a place to hang out. I found that in the women's toilets!
It is one thing to find and attract your tribe. The real magic happens when you immerse yourself in your tribe, listen to them and allow yourself to trust the tribe and open yourself to "go with the flow" with opportunities.
That's what Wonderful Web Women developed into and has been the basis for this next phase of growth.
This is what happened:
One of my guest experts, loved what I had created with my tribe and invited me to be a guest speaker at her conference in the USA. I had to be prepared to travel there, speak for 90 minutes, and sell a program for a minimum of $1500. I said yes!
I had no idea how to present and sell from the stage so I did the obvious….I found a leading female expert on the topic and interviewed her!

My program I had created was only $500 so I had to find a way to make it more comprehensive. So I ran a workshop, filmed it and included the DVDs in the package. Plus extra goodies.

On return to Australia I started receiving lots of invitations to present from the stage because now I was an international speaker!

I co-authored a best selling book (an invite from another guest speaker).

I produced 3 co-authored books with my members and guests as co-authors because I wanted to give my members the same opportunity I had to be an author

I won a very competitive award for Australian Marketer of The Year

During this time our host went belly up during the financial crisis. All our websites (our income) disappeared overnight. Then our backups didn't work! I cried. We rebuilt. We didn't lose 1 customer in the month it took to rebuild and in fact, we gained members. That is the power of tribe.
Lessons
I became a best selling author, international speaker and award winning mentor in a short time because I made friends. Seriously. I adored my guests and created friendships and opportunities came from that. I adored my members and subscribers and so looked for ways to give them opportunities. Tribes consist of friends. Relationships lead to business success.

Say yes to opportunities then figure it out.

One successfully completed opportunity will open doors to far more.

Enter awards.
The Market Changed… and will always change
You'll notice Wonderful Web Women was built on live interviews with a thriving paying community built on a simple model of people paying for access to an archive of recordings and transcripts.
Can you imagine that working easily now?
Of course not. (before you say anything, there will always be exceptions)
Podcasts are so popular now you can get access for free to a wealth of great content. In fact, the interviews I do for my podcast Romance Your Tribe Radio are very similar to the one's I did all those years ago.
This is what happened
I saw that change coming and so changed the business model to become monthly training modules on topics my members asked for. This turned out to be a LOT of work!

I also launched my first high level group coaching program. HUGE learning curve for me!

I ran my first 3 day live event at $1000 per head. Respect to anyone who does this. Huge learning curve for me!

Wonderful Web Women started to change focus because it was not so much about women role models.
Lessons
Stay ahead of changes in the market place and be willing to adapt

Creating comprehensive training modules is heaps more work than interviewing experts

High end programs are awesome but be prepared to create systems and training material or you'll burn yourself out
Signature Systems Create Leverage
As you can see, since the initial revolution things have changed. I found my tribe asking more for my step-by-step trainings and wanting more of ME, and less focus on spotlighting other female leaders online.
They were actually starting to say "You are no longer the passionate reporter Janet. Step up and claim your space as the expert. We want YOU".
To be honest, I resisted this for a while and could have seen the demand for this much earlier if I let myself. It actually took individual customers contacting me and saying "…girl, we need to talk". They challenged me to step up further.
See why I love them?
This is what happened:
I developed a signature system to build a strong tribe online and a loyal tribe, the way I do things. I called it Romance Your Tribe.

I wrote my first solo book, introducing my Romance Your Tribe System. It went to #1 on Amazon kindle

I launched a comprehensive training program called Shine Online.

I also launched a video podcast called Wonderful Web TV that ranked in the top 10 in iTunes in Marketing for the 4 years I published it.

I taught my Shine members how to do my MeTV video podcasting method

I launched a new high end program

I closed my monthly membership

I gradually started to feel the name Wonderful Web Women no longer reflected what we actually do anymore. A feeling on incongruency started sneaking in.
Lessons
You will evolve in your leadership and capacity to impact people. Be prepared to step into that leadership.

A signature system, with your unique language, can actually create a sense of tribe, even if there is no longer a revolution.

Create training resources to help your clients get results with your systems. This will free you up tremendously.

You can choose to work with lots of people at a low price or less people at a high price. It's difficult to combine them (I share a story on the podcast above of one client who tried to join the $47/month program but we had removed the buy button from the order form just that day. So she purchased a $10,000 VIP program instead! We are still great friends!).

If you start to feel incongruent, take notice. This will start to hold you back.
Congruency is Everything….. this is why I closed my award winning website
You see how the last lesson I shared, was the sense of incongruency I started to feel about what the name Wonderful Web Women stood for, and what the business has evolved to?
I knew I was no longer true to my roots and this incongruency was starting to sabotage my confidence to step up.
This is what happened:
I asked myself…"what would I advise my clients if they were in my situation?"

I decided to apply my own Romance Your Tribe System to my own business, starting right from scratch, working through the exact steps and exercises they would use.

I made the decision to make my system the star of the show (with me as the co-star), instead of "Women in business" the star of the show.

I developed so many insights by systematically applying my system to my own business that I created streamlined templates, systems and training material so my clients could apply the system to their own business faster and with less stress.

I created, launched and sold the most comprehensive and awesome program I've created so far called

"Attract Your Tribe"

and seen my members seriously kick some goals.

I launched a new video podcast called Romance Your Tribe Radio and produced over 40 new episodes

I developed new branding, new messages, new logos, new website that really reflect what I now stand for.

I simplified my business further with a nested business model of

VIP clients

part of a tight-knit group implementing the Attract Your Tribe program (and so proud of the results they have been getting).

Closed Wonderful Web Women for good in January 2019 when current members of the Shine program had completed their training.
Lessons
There is no better proof that your system works, than treating yourself as if you are your own client and do the work you ask them to do!

Simplify, simplify, simplify

If you feel incongruent, acknowledge this and take action. Otherwise your business and confidence will slowly erode.

It can easily take a good year of solid action to detonate a brand and build a strong foundation of your message, marketing and offers. Longer (much longer)  if you do not have a proven system to follow like Attract Your Tribe.
What's Next?
The past year has been a true investment in Sweat Equity. It's been a lot of work!
Now my focus can be completely directed to:
Experimenting with marketing, launches, content and great ways of including my tribe in all my marketing and connecting strategies.

Focus on getting great results for my existing and new clients in my comprehensive training at Attract Your Tribe and working with my VIP clients (Those in the Attract Your Tribe Accelerator Program and my advanced business owners in my Rising Stars Program).

Actively inspiring and enabling the wonderful people in my online tribe to step into their own power as a leader of their own tribes online.

Help people, who help people, help more people!
Share Below
I'd love to hear from you.
Have you been part of the Wonderful Web Women community over the last decade?
I'd love to hear your stories.
Let's have a reunion party in the comments below!
A Special Message From Janet
Thank you so much for being here. I know there are a lot of podcasts you could choose to listen to  and you chose to join me on Romance Your Tribe Radio.
Woohoo!
I'm honoured and  grateful for your support.
If you enjoyed this week's episode, I'd love for you to take a quick minute to share your thoughts with us and leave an honest review and rating for the show over on iTunes!
Read The Transcript Here
Transcript will be available soon!